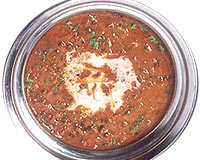 Dinner Recipes
Achaari Murg is a pickle style chicken recipe of north India.

Adraki Murg is a tangy Chicken recipe of north India.

Afelia is a very popular Greek recipe.

Alabama Pulled Pig is a scrumptious recipe.

Aloo Capsicum is a popular Indian recipe served with rotis.

Aloo Gobhi is a common Indian recipe.

Aloo Gobi Methi Tuk is a delicious and easy to cook recipe.

Aloo Mutter is the most commonly served Indian recipe in dinner.

Aloo Palak is a nutritious Punjabi recipe.

Aloo Posto is a delicious Bengali recipe generally eaten as a dry accompaniment to a meal of rice and curries.

Aloo Potol is a traditional Bengali recipe.

Alu Methi Palak is mouth-watering leafy vegetable recipe.

American Chop Suey is a popular recipe.

American Lasagna is a tempting dish made from layers of pasta, meat and cheese.

Andhra Brinjal is a very delicious recipe.

Andhra Carrot Curry is a very popular recipe.

Andhra Egg Biryani is a very delicious recipe.

Andhra Rasam is a very popular South Indian recipe.

Andhra tomato Rice is a very popular recipe.

Chicken gives a unique flavour to Angel Hair Pasta.

Anise Seed Rolls are are soft, tender dinner rolls.

Apple Glazed Pork Chops tantalizes the taste buds.

Apple Walnut Stuffed Pork Roast is a delicious dish.

Arroz Blanco is prepared by cooking rice with chicken broth.

Asian Orange Chicken is a delicious citrus chicken recipe.

Asian Pork Tenderloin is the best way to enjoy your dinner.

Asparagus and Tomato Skillet is a very popular recipe.

Asparagus Risotto is a delicious and popular Italian recipe.

Asparagus Salad is a crisp and delicious recipe.

Avial is a delicious dish of Kerala, usually served on Onam.

Baby Back Ribs is a very tasty dinner option.

Babycorn Manchurian is a popular brunch recipe.

Bacon Wrapped Pork Chops is a gastronomic delight.

The mouth-watering Bagara Baingan is a delicious sabzi, ideal for every occasion.

Baingan Bhaja is a popular Bengali recipe.

Baingan Ka Bharta is a Punjabi recipe .

Bajra Aloo Roti is a special Rajasthani dish generally eaten during the winter months.

Bajra Roti is a delicious flour bread made of millet.

Baked Chicken Continental is a very yummy recipe.

Baked Chicken Thighs is an easy to cook recipe.

Baked Chicken With Sour Cream is a very tasty recipe.

Baked Fish Masala is a healthy and nutritious dish.

Baked Lamb is a very popular recipe.

Baked Sardines is a delicious recipe.

Baked Stuffed Potatoes with spicy and yummy stuffing can be enjoyed at lunch or dinner.

Baked Trout with Bacon is a delicious and lip smacking Russian specialty.

The low calorie baked vegetable recipe is both nutritious and healthy.

Bandhakopir Ghonto is a Bengali recipe.

Bangla Khichdi is a tasty Bengali dinner recipe.

Banjari Gosht is one of the favorite recipes from Rajasthan.