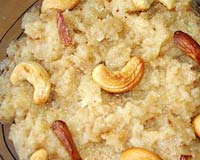 Malabar Recipes
Ada Pradhaman is a mouthwatering Malabar recipe.

Appam is a popular breakfast recipe of Kerala.

Avial is a delicious dish of Kerala, usually served on Onam.

Banana Chips is a popular snack, high in saturated fat content.

Banana Halwa is a very popular recipe.

Brinjal Prawn Curry is a delightful Malabar recipe.

Coconut Prawn Gravy is a tasty Malabar recipe.

Egg Stuffed With Veggies serves as a delicious appetizer.

Fish Curry with Coconut is a tangy South Indian dish.

Fish Pickle can be stored in a refrigerator for two weeks.

Kothu Porotta is a very popular South Indian recipe.

Malabar Biriyani is a very tasty kerala recipe.

Malabari Fish Curry is a popular non-vegetarian recipe, offering tempting flavor to the taste buds.

Mango Pulisheri is a yummy recipe usually prepared on Onam.

Masala Lobster is a hot seafood recipe.

Milagu Curry is a very popular recipe.

Pazhampori is popularly known as banana fritters.

Prawn Biryani is a delicious Malabar recipe.

Prawn Kebab is a delicious Malabar recipe.

Prawn Pulav is a delightful recipe.

Prawn Tikka is a Malabar appetizer recipe.

Rava Ladoo is a popular Malabar sweet.

Spicy Prawn is a piquant Malabar recipe.

Spinach and Potato Fry can be rustled up in no time.

Suji Laddu is a quick and easy to cook sweet.

Uttapam is a very delicious South Indian recipe.