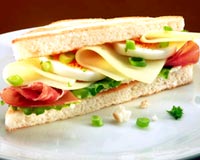 Bread Recipes
Chocolate Cookies is a very popular recipe.

Nan Khatai is a very popular cookie of Pakistan.

Lebanese Bread is a delicious bread that be served with any of your dinner or barbeque dishes.

Bread Roll is a very popular recipe.

Bread Pudding is a very popular recipe.

Butterscotch Brownies is a very popular recipe.

French Toast is a very popular breakfast recipe.

Mexican Pan Dulce is a Mexican sweet bun, with sweet topping.

Oatmeal Raisin Bread is a very popular recipe.

The delicious Brown Bread is very nutritious, as it is enriched with fibers, minerals and vitamins.

Apple Sandwich is an easy to make dessert perfect for picnics & outings.

Kashmiri naan is prepared with a rich stuffing inside.

Banana Sour Cream Bread is a very popular recipe.

Pizza Dough is very easy and simple to make.

Do you love chocolate and pumpkin together? If you do, you will love this recipe.

Garlic Bread is popular Italian recipe.

Jowar Roti is a popular recipe eaten in the summer month in Rajasthan.

Italian cheese, garlic and French bread slices are used to prepare the delicious Cheese Garlic Bread.

Bread Bhel Puri is a very popular recipe.

Almond Biscotti is a perfect tea time snack.

Montecados are traditional cookies from the Spanish cuisine.

Pistachio Macaroons is a delicious French cookie.

Danish Butter Cookies is a delicious and very popular cookie recipe that is a favorite of many.

Whole Wheat Bread tastes great with jam, jellies and butter.

Bread Poha is a very famous recipe.