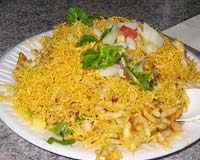 Maharashtrian Recipes
Aamras is a tasty sweet recipe.

Almond Til Chikki made with til and almonds tastes great and is a healthy sweet rich in iron.

Anaarkli Bhel is a tangy and sour snack recipe.

Badaam Poori is a very rich dessert.

Baingan Raita is a very popular recipe.

Basil Tea is a tasty drink recipe.

Batata Vada is a Maharashtrian dish in which besan is used to dip potato.

Bhajnee Thalipeeth is a crispy and tasty recipe for breakfast.

Bharleli Vangi is a sweet and tangy Maharashtrian dish made with coconut and peanuts.

Bhel Puri is a low-fat, nutritious and delicious recipe.

Bombay Duck is a crispy dried salted fish with a pungent smell usually eaten as a starter.

Bombay Halwa is a very popular recipe.

Bombay Potatoes is a very delicious recipe.

Brown Poha is a tasty healthy variation of the very popular good old poha Learn how to make/prepare Brown Pohe by following this easy recipe.

Brown Pohe is a very healthy breakfat recipe.

Chana Usal is a popular Maharashtrian cuisine.

Choco Coconut Modak is an interesting yummy choco-nutty variation of traditional modaks.

Cucumber Omlette is a popular recipe.

Date and Sesame Puranpoli is a sweet roti stuffed with till and dates.

Dry Fruit Chikki is a very popular recipe.

Dum Ka Murgh is a delicious recipe.

Falooda Ice Cream is a very popular recipe.

Garlic Chutney is a traditional recipe of Maharashtra.

Green Peas Curry is a very simple and delicious recipe.

Imli Ka Amlana is a tangy refreshing cool drink to beat the heat in the summer.

Jhunka is a delicious vegetarian recipe.

Kohlapuri Rassa is a Maharashtrian recipe.

Lonavala Chikki, also known as Peanut Brittle is a very popular recipe.

Maharashtrian Chicken Curry is made in Marathi style, with coconut milk.

Maharashtrian Fish Gravy is usually served with steamed rice and deep fried savory buns.

Marathi Kadhi is a very delicious recipe.

Masala Bhat is a very popular recipe.

Masala Puri is very delicious.

Matki Chi Usal is a nutritious and delicious dish of Maharashtra.

Mattar Karanjis is a very popular Maharashtrian recipe.

Microwave Bharawan Baigan is a delicious Maharashtrian recipe.

Modak is a Maharashtrian sweet dish usually served on Ganesh chaturthi.

Moong dal khichdi is a very popular recipe.

Moong Dal Usal has a distinctive taste and aroma that can make your mouth water.

Moong Misal is a nutritious recipe.

Mutton Kolhapuri is a traditional Maharastriyan recipe.

Oat - Puffed Wheat Bhel is a delicious appetizer.

Onion Bhaji is a very popular recipe.

Paav Bhaji is a popular Maharashtrian Food.

Pani Puri is the most popular Indian chaat.

Pedha is a popular Indian sweet.

Poha is a light and nutritious recipe.

Prawns Koliwada is a yummy recipe.

Puran Poli is known as Holige in Karnataka and Bobbatlu in Andhra Pradesh.

Quick Nariel Burfi is a very popular Indian sweet.