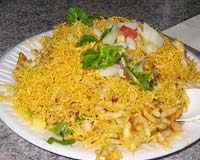 Maharashtrian Recipes
Modak is a Maharashtrian sweet dish usually served on Ganesh chaturthi.

Shrikhand is a very popular dessert of Western India.

Poha is a light and nutritious recipe.

Pani Puri is the most popular Indian chaat.

Bhel Puri is a low-fat, nutritious and delicious recipe.

Onion Bhaji is a very popular recipe.

Spicy Poha Salad is a simple, yet delicious recipe.

Vada Pav is a famous Maharastrian recipe.

Puran Poli is known as Holige in Karnataka and Bobbatlu in Andhra Pradesh.

Batata Vada is a Maharashtrian dish in which besan is used to dip potato.

Sev Puri is a popular Maharastrian recipe.

Paav Bhaji is a popular Maharashtrian Food.

Pedha is a popular Indian sweet.

Rice Chakli is a very popular recipe.

Prawns Koliwada is a yummy recipe.

Maharashtrian Fish Gravy is usually served with steamed rice and deep fried savory buns.

Garlic Chutney is a traditional recipe of Maharashtra.

Lonavala Chikki, also known as Peanut Brittle is a very popular recipe.

Bombay Halwa is a very popular recipe.

Ragda Patties is a Maharashtrian fast food recipe.

Dry Fruit Chikki is a very popular recipe.

Masala Puri is very delicious.

Bharleli Vangi is a sweet and tangy Maharashtrian dish made with coconut and peanuts.

Choco Coconut Modak is an interesting yummy choco-nutty variation of traditional modaks.

Shankarpali is a very popular recipe.