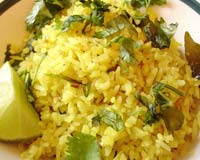 Ugadi Recipes
Hyderabadi Biryani is a very popular Indian recipe.

Shrikhand is a very popular dessert of Western India.

Poha is a light and nutritious recipe.

Bisi Bele Bhath is a popular South Indian recipe.

Obbattu is an perfect dessert for important occasions such as Ugadi.

Puran Poli is known as Holige in Karnataka and Bobbatlu in Andhra Pradesh.

Medu Vada is a traditional South Indian recipe.

Mango Shrikhand recipe is made from strained yogurt and mangoes.

Aval Payasam is made with milk and poha.

Ariselu is a popular sweet, usually prepared on Makar Sankranti.

Andhra Rasam is a very popular South Indian recipe.

Chettinad Mutton Biryani Recipe.

Choco Coconut Laddoos is a luscious and attractive recipe.

Coconut Halwa is a very popular South Indian recipe.

Rice Rotis is a popular rice recipe, perfect for any occasion.

Chana Usal is a popular Maharashtrian cuisine.

Mango Rice also known as Maamidikaya pulihora is a popular festival recipe prepared on Telegu New Year.

Curd Pachadi recipe goes well with chapati and rice.

Morkuzhambu is also known as Buttermilk Sambhar.

Boondi Curry is a rich flavored curry preparation from the Andhra cuisine.

Pulihore is one of the special recipes of Ugadi festival.

Neem Pachadi is a healthy low calorie dish.

Mango Dal is a delicious recipe.

Andhra Beerakaya Pachadi is a delicious dish that make you lip smack.

Neer Dosa is a very popular and delicious recipe made in Kerala and Karnataka.