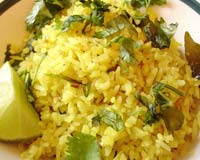 Ugadi Recipes
Andhra Beerakaya Pachadi is a delicious dish that make you lip smack.

Andhra Rasam is a very popular South Indian recipe.

Ariselu is a popular sweet, usually prepared on Makar Sankranti.

Aval Payasam is made with milk and poha.

Bisi Bele Bhath is a popular South Indian recipe.

Boondi Curry is a rich flavored curry preparation from the Andhra cuisine.

Chana Usal is a popular Maharashtrian cuisine.

Chettinad Mutton Biryani Recipe.

Choco Coconut Laddoos is a luscious and attractive recipe.

Coconut Halwa is a very popular South Indian recipe.

Curd Pachadi recipe goes well with chapati and rice.

Hyderabadi Biryani is a very popular Indian recipe.

Mango Dal is a delicious recipe.

Mango Rice also known as Maamidikaya pulihora is a popular festival recipe prepared on Telegu New Year.

Mango Shrikhand recipe is made from strained yogurt and mangoes.

Medu Vada is a traditional South Indian recipe.

Morkuzhambu is also known as Buttermilk Sambhar.

Neem Pachadi is a healthy low calorie dish.

Neer Dosa is a very popular and delicious recipe made in Kerala and Karnataka.

Obbattu is an perfect dessert for important occasions such as Ugadi.

Poha is a light and nutritious recipe.

Pulihore is one of the special recipes of Ugadi festival.

Puran Poli is known as Holige in Karnataka and Bobbatlu in Andhra Pradesh.

Rice Rotis is a popular rice recipe, perfect for any occasion.

Shrikhand is a very popular dessert of Western India.