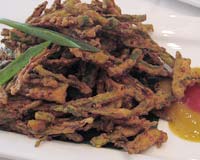 Rajasthani Recipes
Ghevar is a Rajasthani delicacy especially prepared during the festivals of Teej & Rakhi.

Dal Bati is a popular Rajasthani recipe.

Bedmi Puri is a popular Rajasthani recipe.

Dahi Bhalla is a mouth-watering chaat with the goodness of dal and yogurt.

Bikaneri Bhujia is a crispy snack, which can be stored in an air-tight container for a long time.

Churma is a tasty traditional Rajasthani dish.

Lahsun Ki Laal Chutney is a spicy hot garlic chutney with the tang of lemon.

Gatte Ki Sabzi is a popular Rajasthani Curry recipe.

Churma Laddoo is a very popular recipe.

Banjari Gosht is one of the favorite recipes from Rajasthan.

Mathi is a popular Rajasthani recipe.

Jowar Roti is a popular recipe eaten in the summer month in Rajasthan.

Bajra Khichdi is a low calorie recipe, quite popular in Rajasthan.

Stuffed Bajra Roti is a very popular recipe.

Methi Muthiya is a tasty recipe.

Bajra Aloo Roti is a special Rajasthani dish generally eaten during the winter months.

Paneer Kulcha is a lip smacking snack from the Rajasthani cuisine.

Rajasthani Bhindi is a tasty recipe made by stuffing bengal gram flour mixture into the bhindi.

Choco Jamun is a delicious variety of the good old gulab jamun stuffed with chocolate.

Makki Paneer Pakora is a very delicious Rajasthani recipe.

Cabbage Pakoras is a very tasty evening snack.

Dahi Baingan is a very popular Rajastani recipe.

Dahi Wale Aloo is a very popular recipe.

Aloo Took is a crispy and tangy fast food recipe.

Besan Chakki is a very popular recipe.